Super Bowl, here we come. Bears vs. Colts maybe? If only. We are allowed to dream !
http://nfl.com/scores
You know it's a huge game when Bill Belichick upgrades from his usual sideline attire -- a gray, half-sleeve hoody he wore while cleaning the basement crawl space -- to a stylish, full-sleeved, bloodshot-red sweatshirt fresh out of the wrapper. The blue headband was a nice fashion touch, too. You didn't know if Belichick was coaching the
New England Patriots
, or late for a photo shoot at Killington ski resort.
What a strange, strange Sunday night at Gillette Stadium. Strange because nothing played out the way you thought it might. The Indianapolis Colts won. Tom Brady threw four interceptions. Indy import Adam Vinatieri missed two field goals. And no New England tailback set a club rushing record. Go figure.
For the second consecutive season the Colts remain the only undefeated team in the NFL. And for the second time in the last 12 months, the Colts have beaten Brady's Patriots. All things considered, this is like the leaves turning green in the fall.
What does the 27-20 victory mean? Nothing ... yet. But it could.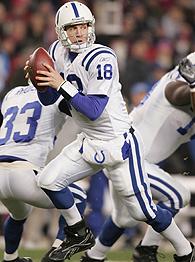 David Butler II/US PRESSWIRE
Peyton Manning and the Colts started 14-0 last year. Could they top that this season?
It could mean the 1972 Miami Dolphins will have to sweat out their champagne ceremony for a while. Last year the Colts didn't lose their first game until Dec. 18, 14 games into their season. But think about the delicious possibilities if Indy could somehow beat Buffalo, take advantage of psycho Dallas, wear down Philly, trounce Tennessee, survive Jacksonville, sneak past Cincinnati and overwhelm Houston.
Fifteen-and-oh with one regular season game left to play. Against, ta-da, Miami. The same Miami team that ended Chicago's perfect season Sunday.
"Lovie let me down today," said Colts coach Tony Dungy, referring to close friend and Bears coach, Lovie Smith. "I was hoping they'd continue to win ... they'd get all the focus."
Truth is, the Colts are better equipped to handle the pressure of an unbeaten streak. The Bears were all nervous twitches and bad manners. Exposed by lowly Arizona and then slapped around by the same one-victory Dolphins that the Chicago Tribune ranked as the worst in the NFL ("Can't even beat the bad teams," said the Trib last Wednesday), the Bears were a meltdown waiting to happen. Too much pressure on an erratic and inconsistent Rex Grossman.
But Manning is anything but erratic. His 326-yard, two-touchdown performance was his third consecutive 300-yard game, a surprising first for a guy with his off-the-chart career passing totals. Watching him orchestrate the Colts lethal offense Sunday evening was like watching a high school drama club teacher tell everyone where to stand on stage. Chaos, then ... perfection.
If anyone, other than Brady, can lead a team to a 16-0 record, it's Manning. You should have seen him when his Sprint commercial appeared on the stadium jumbotron as the Colts waited to begin their first drive of the night. You know the spot: Manning, wearing a Burt Reynolds toupee and a fake mustache, standing in his garage talking about, well, Manning.
As the commercial played to a growing chorus of boos at Gillette, Patriots linebacker Mike Vrabel caught Manning's attention. "Just sort of awkward eye contact," said Manning. "I think he's kind of wondering why it's being shown.
Then the quarterback's own teammates started on him.
"My linemen were just killing me," Manning said.
These were the same linemen who left the visiting locker room at night's end with victory cigars sticking out of their suit pockets. Meanwhile, Manning was dreading Wednesday's interview session with the media. For this he can blame his alma mater, Tennessee. Thanks to LSU's victory against the Vols on Saturday evening -- and a lost bet to LSU alum and Colts rookie Joseph Addai -- Manning has to wear a Tigers sweatshirt.
So then, does this sound like a quarterback and a team feeling the weight of an 8-0 record? Does it sound like a team overcome by the hype?
"We just don't believe any of it," Manning said.
Good idea. The Colts have flaws, but the Patriots couldn't take advantage of them. They gained 148 yards on the ground, but we expected more. They scored 20 points, but we expected more. They committed five turnovers, but we expected less. Much less.
"The thing is, stats lie," said Colts defensive end Dwight Freeney. "Stats are just stats."
And the stats said the Colts were the worst rush defense in the league. But here they are, undefeated, fresh from beating the Denver Broncos in Denver, and now the Patriots in Foxborough. Maybe Freeney is right. The only numbers that matter are the ones on the scoreboard.
"We're not playing quite as sharp as last year, but we're finding different ways to win," Dungy said. "That's good."
On a night when the usually automatic Vinatieri missed two of four attempts during his return ... when the Colts rushed for a grand total of 53 yards ... when Manning was sacked three times and pressured five times that often -- Indianapolis still won. That's very good.
One of my memories of this game will be the sight of Patriots cornerback Ellis Hobbs and linebacker Junior Seau slapping their thighs in frustration after Manning, while getting sandwiched by the New England rush, completed a crucial pass early in the fourth quarter. Or maybe it was the look of disbelief on Hobbs' face when Marvin Harrison somehow held on to a Manning pass at the end zone's edge, and then dragged his left foot to make it legal. Or maybe it was the simple postgame handshake by Brady and Manning.
"I will enjoy this one for a little bit," Manning said.
He should. But just for a little bit. That's all a strange win is worth these days.