The new FieldTurf at Gillette Stadium, home of the New England Patriots, was to serve as a figurative proving ground for the Chicago Bears.
Only we didn't learn a whole lot new about the Bears. No, we already knew that as their defense taketh, the Bears' offense, particularly quarterback Rex Grossman, will from time to time giveth away. That flaw cost the Bears for the second time this season and if they don't get it corrected it most certainly will cost them in the postseason, when there is no next week.
Chicago forced five New England turnovers (bringing the Bears' league-leading total to 34) Sunday, including four takeaways with Patriots threatening to score. But Grossman offset those takeaways with three interceptions (giving him 11 in the past six games) and a fumbled exchange with Pro Bowl center Olin Kreutz inside the New England 10 in the second quarter of a game in which, as expected, points were at a premium.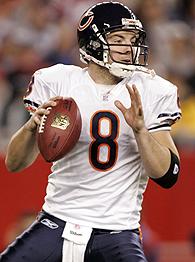 The Patriots (8-3) won, 17-13. And in the process Grossman did not win over any of the team's critics who believe that he alone is the difference between a Chicago Super Bowl run and another early playoff exit. Grossman posted a season-low 23.6 efficiency rating -- so low it's less than the young quarterback's age, 26 -- in completing 15 of 34 passes for 176 yards against in fairness what is one of the league's stingiest defenses. But the fact is, beginning with the Bears' wild Monday night win over the Cardinals in the desert, Grossman has been lost ... then found ... and then lost again. He's been awful against Arizona, brilliant after the Bears' bye against San Francisco, bad against Miami, good again against the Giants, good enough against the Jets, and reverted to bad against New England.