Today, Steven had a day of fun planned out for me... I called Comcast so they could finally come and fix my internet. They came this morning and "fixed it." At least the laptop works. After that came Jasmine's nap, but after she woke up, then the day of fun began. I started by going to Home Depot to return the hose winder Steven bought Saturday (without a handle). Genious! Second stop: Circuit City, to return the audio and video cables we ended up not needing, thankfully. Whoever thought extension cables for your TV were so expensive? My third stop was Lowe's, where I had to return the weed eater Steven had purchased, also on Saturday. It stopped working about thirty minutes after he started using. Now that's quality equipment! I went into Lowe's and had to go back out because they won't take back equipment that had still had gas in it. I loaded it back in the car (easier said than done), drove to the end of the parking lot, and dumped it. Went back inside, and returned it. By now, Steven was trying to reach me. He had gotten out of work and wanted us to meet up before my fourth, and final stop.
We met in front of Pier 1 Imports. Figured I'd do some window shopping while I waited. I took this picture of Jasmine as Steven was parking next to me.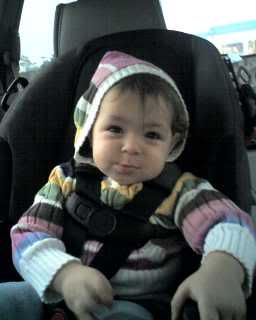 We went to Menards, you guessed it, to return another piece of crappy equipment. The chainsaw Steven bought, and had used a total of two times, broke. We caught some serious 'tude' from the lady at the return counter. She must've been having a really crappy day. We went and grabbed another chain saw (same brand - very smart of us), and also paid for the Notre Dame Mat that I'd been looking for. Now the baby's room is one step closer to being complete. I just need the glider with ottoman, the notre dame crib sheet that is impossible to find, and a notre dame lamp. The double stroller is also another thing I need to buy, but I can't decide which one! There's so many of them, and the price range is incredible! You'd think they're selling a baby too!
After Menards, we went to find a place to eat. We decided on UNO Chicago Bar & Grill. Steven and I had never eaten there before. I had some Shrimp Scampi Pasta, and Steven had a personal pizza. The food was great. Jasmine really enjoyed the pasta. She was eating so fast that she gagged a couple of times. She likes to scare mommy and daddy like that!!!

The bad part about meeting Steven in Merrilville is the drive back. We had to drive separately. Funny thing is that the moment we got in each other's cars, I called mom, and he called Jose. Mom and Jose were having dinner at Applebee's. It was funny that they were sitting together, one with me on the phone, the other with Steven on the phone. Conversations that were totally unplanned. Great minds think alike!