Today, Steven is golfing! How white of him!!!
He sent me these pictures from the golf course through his cell phone.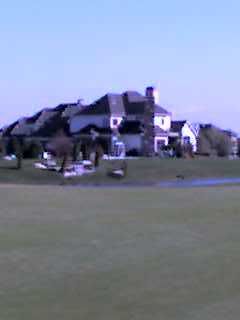 I woke up, and he was already gone. It is 1:01PM right now, and Jasmine is ready to wake up from her nap. Sure doesn't feel like a Sunday. Dad called me today. He was on his way to work. Abuelita is in Florida visiting him. Junito is coming this next week and even Titi Diana is flying down to see him. I wish I could go see him too. I am too pregnant to fly. The Bears are on right now. Detroit is winning 3 to 0. My morning has been long and boring. I have heartburn, but what else is new! I made 'pastelillos' from scratch. Got the recipe to make the dough from www.ricanrecipes.com It's the best website for recipes from PR I've ever found. I made three of them and have regretted it ever since. Fried foods and pregnancy don't mix. I couldn't help myself. Dad told me that Titi Sylvia and Tio Junior are moving this weekend and that they are selling all their furniture. I would call them but I know that we won't make it to Plainfield, IL by today. Not with my husband out golfing. Yesterday, after Jasmine's pumpkin party, we talked about how long this golfing outing would last. I certainly didn't think it would feel like a weekday, where Steven is at work, and I'm at home like the good little housewife.
Oops, Jasmine is awake. She probably felt my rage and wants to comfort me. Oh no, wait, it's a poopy diaper... Fun!!!